still catching up, today was a big day! I purged a lot of clothing today.
My husband and I have separate closets and he just cleaned his out a couple of weeks ago. ( also has two closets and I have one, go figure!
here it is before
see all the junk on the floor? mostly shoes!
here is the other side
and the top ...
I pulled everything out!
I piled all the clothes on my bed
and then started purging.
I got rid of over half my clothes, it took up over two trash bags full.
Don't worry, I got rid of some shoes too!
and here is what it looks like now....
for some reason, I only got a picture of this side, but the other side looks just as good.
I kept only enough shoes that I had room for.
and I placed all of my purses and tote bags in the tote and placed it on the top shelf.
( guess, I didn't get a picture of that either)
well, there you have it. now I have room for some new clothes!
three more challenges left and I will be done! ( and I get my button!)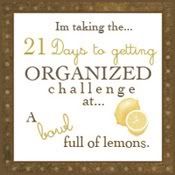 also, now there will be a weekly challenge if anyone is interested in joining, stop on over and say hello to Toni!