Well, here it is, my refrigerator...
here is before:
( I really don't make the before pictures darker on purpose!)


I took everything out and washed it down with a vinegar and water mix.
and here it is now:
looks much better!
I did clean out the door too, but it wasn't very messy because I had just cleaned it out and organized it not that long ago. ( plus I forgot to take before and after pics of the door!)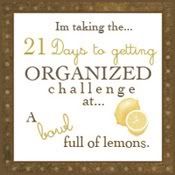 medicine is still coming ....