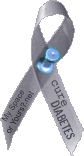 Two days before Christmas, I was diagnosed with Type Two Diabetes.

This was somewhat not a suprise because I had gestational diabetes with three of my four pregnancies.

My father has Diabetes and his parents before him did too.

So, this new year, I will be learning how to live with this and change my lifestyle along the way.